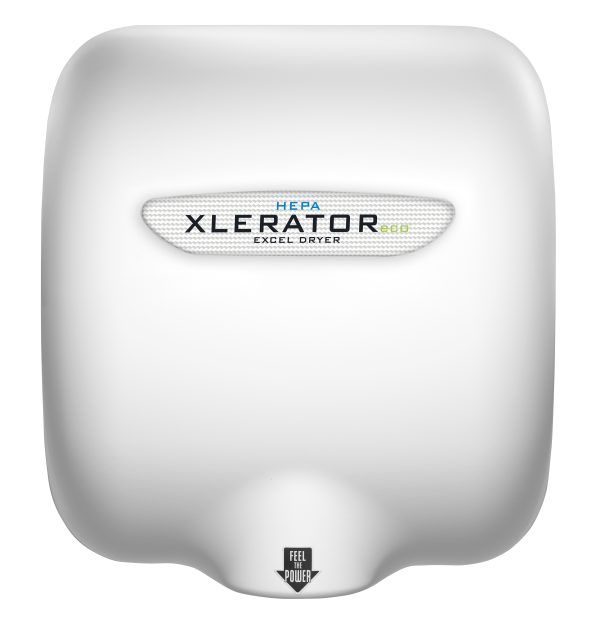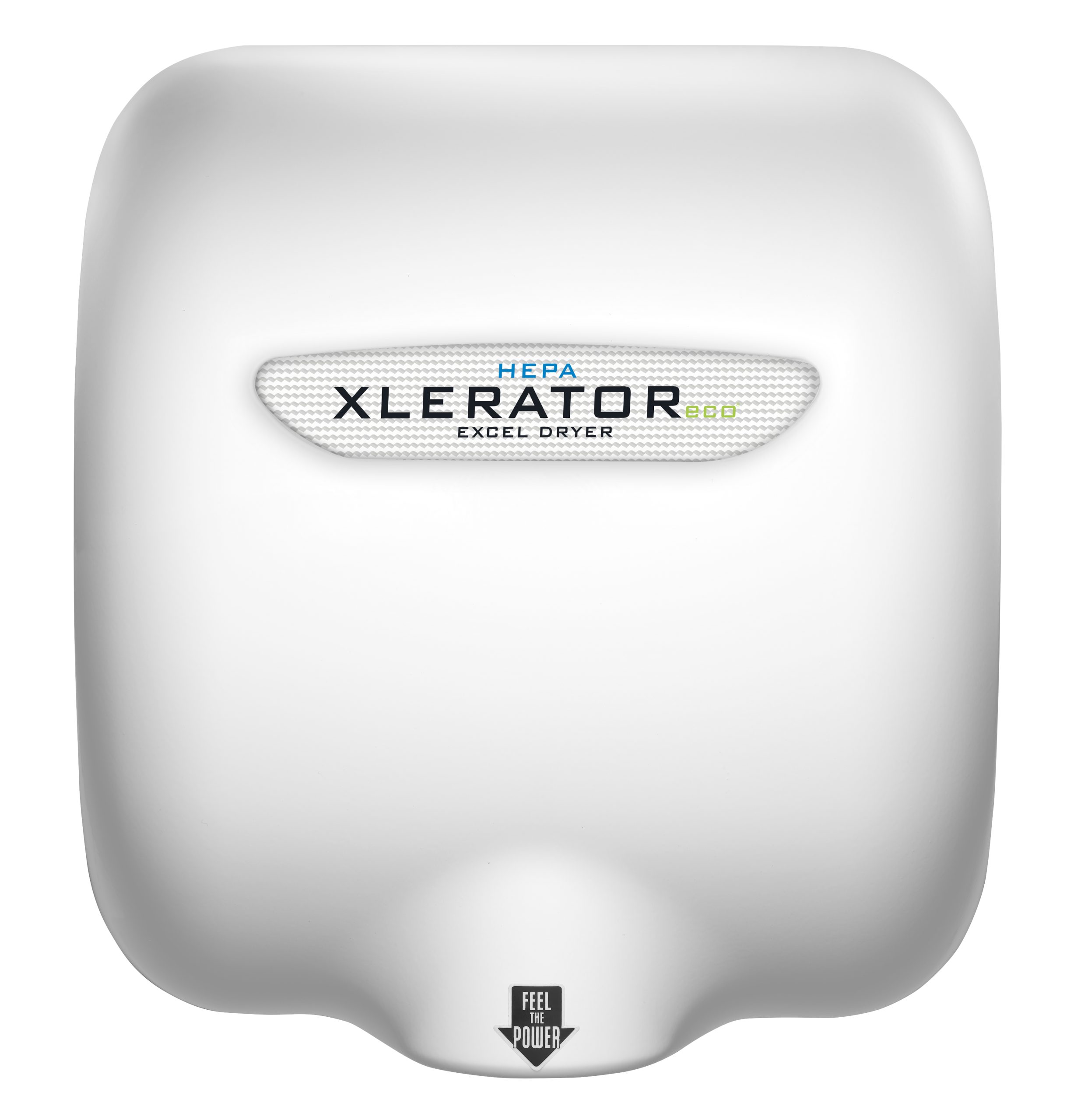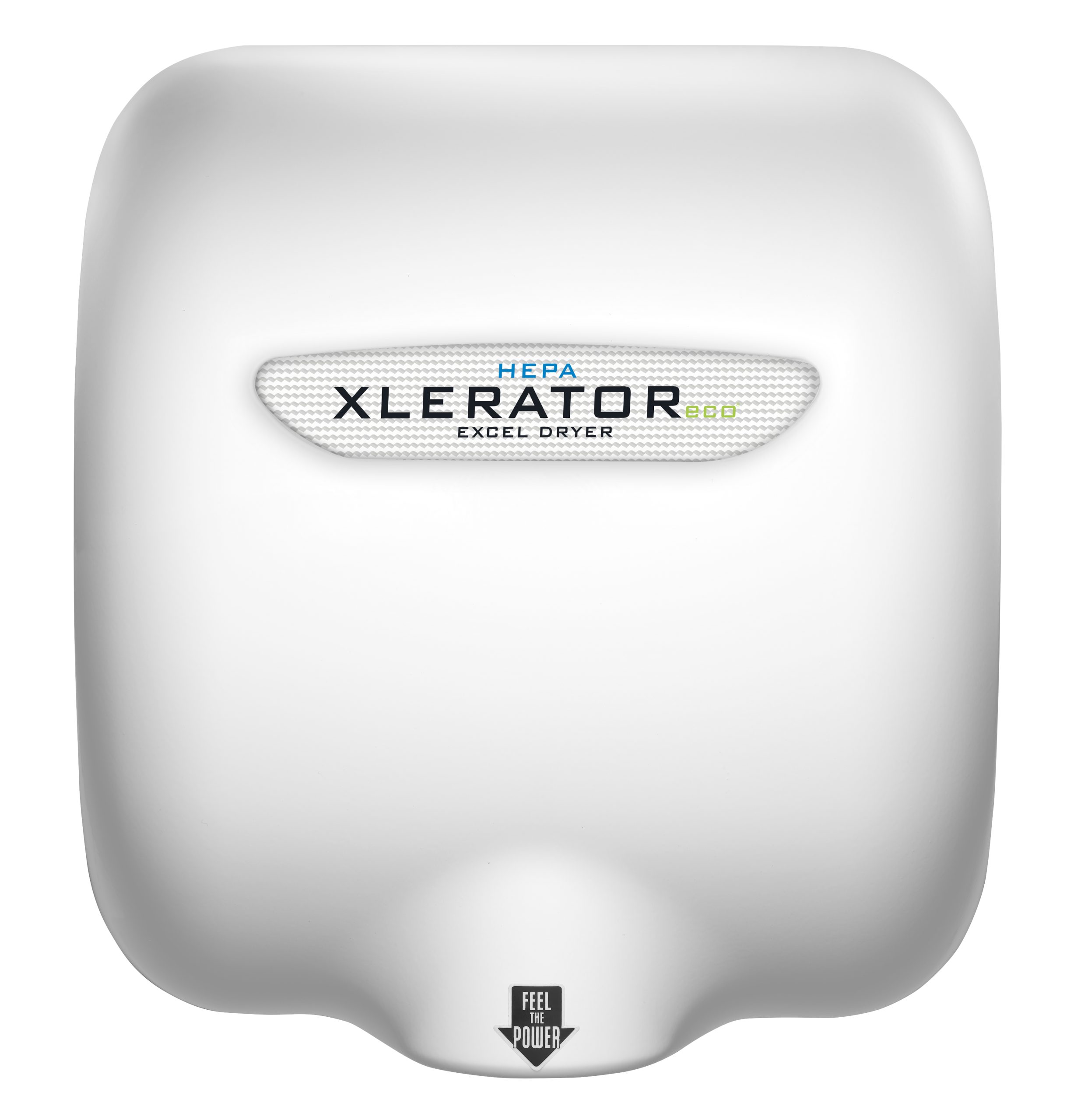 Excel (XL-BW-ECO-H) | Xlerator Eco Hand Dryer, HEPA Filtration, White BMC
Purchase the Xlerator XL-BW-ECO-H with the lowest price and fastest shipping.
XleratorEco XL-BW-ECO-H
High Performance
Dry Time of 10 Seconds
Practically Maintenance Free
Multiple XLERATOReco® Units Can Be Installed On One Circuit
Save Time & Money
95% Cost Savings compared to buying Paper Towels
80% Less Energy Used Than Conventional Hand Dryers
Say Goodbye to Maintaining Paper Towel Replenishment & Waste
Sustainability
Contributes to Qualification for multiple LEED® credits
Helps facilities reduce their carbon footprint
All XLERATOReco® Hand Dryer Models Are EPD Certified
Hygiene
Cutting Edge of Hand Dryers Hygiene
Antimicrobial Wall Guards protect walls from water and prevent bacteria growth
A Hygienic Hand Drying Solution
HEPA Filtration System Removes 99.999% of viruses and 99.97% of potentially present bacteria at 0.3 microns from the airstream.
Specifications
| | |
| --- | --- |
| Weight | 13.55 lbs |
| Voltage | 110-120V (Standard), 208-277V |
Specifications
Specs for  Xlerator XL-BW-ECO-H
Color Finish: White BMC
Dry time: 10 Seconds
Activation: Automatic Sensor Operated
Mounting: Surface Mounted
Watt hours: 1.7
Wattage: 500
Heat settings: NO HEAT
Dimensions: 11 3/4" W x 12 11/16" H x 6 11/16" D
Weight: 15-17 lbs.
ADA-Compliant: Available with Recess Kit
Adjustable sound level: 65-75 dB
Adjustable velocity: 13,000-20,000 LFM
Adjustable flow rate: 42-63 CFM
Made in: USA
Warranty: 7-Year Limited
Voltage Options: 110-120V or 208-277V
Installation
SUGGESTED MOUNTING HEIGHTS
Men 45″ (114 cm)
Women 43″ (109 cm)
Teenagers 41″ (104 cm)
Small Children 35″ (89 cm)
Accessible 37″ (94 cm)
Note: Heights measured from floor to bottom of dryer.