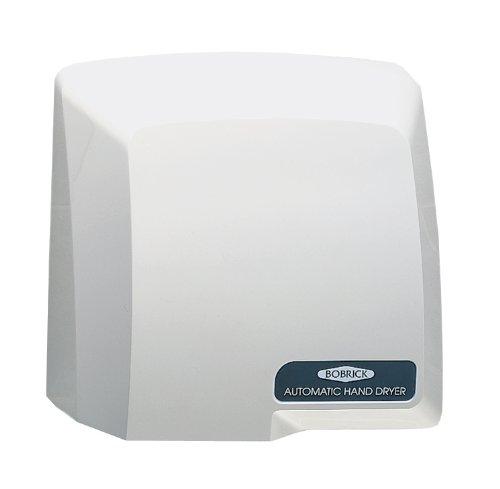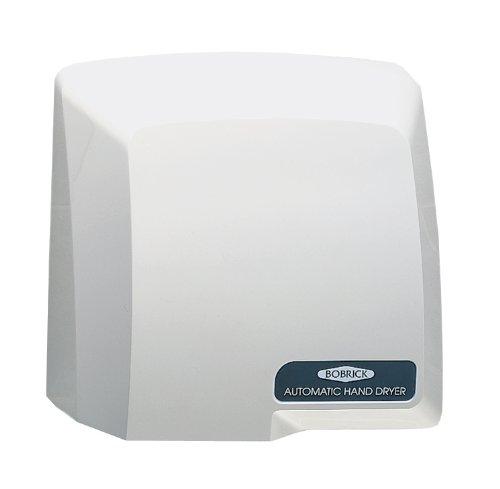 Bobrick (B-710) | CompacDryer™, Surface-Mounted Hand Dryers, Grey (International Only)
Purchase the Bobrick B-710 with the lowest price and fastest shipping.
Bobrick B-710
One-piece grey-molded plastic cover, automatic sensor
Specifications
| | |
| --- | --- |
| Weight | 18.35 lbs |
| Dimensions | 10 × 9 × 8 in |
Specifications
Specs for  Bobrick B-710
Color Finish: Grey
Voltage: 115V AC, 15 Amp, 60 Hz, 1/25 Watts, cULus Listed.

Activation: Automatic 
Mounting: Surface 
Cover: One-piece, 3/32" (2.6mm) thick fi re-retardant, molded , high-quality, high-impact, pale grey (Bobrick color #889) ABS plastic, 5-V rated. Cover is secured to mounting base with three fl at-head stainless steel screws.
Mounting Base and Fan Housing: 5-64″ (2.0mm) thick fi re-retardant molded grey plastic with high-gloss fi nish. Air-inlet grille fits into bottom of mounting base. Air-outlet grille is secured between fan housing and mounting base.
Motor: 115V AC, 90 W, 60 Hz, 2500 rpm. Brushless, external rotor motor. Sealed ball bearings at both ends of drive shaft; maintenance free. Equipped with an automatic thermal-overload switch.
Fan: Dynamically balanced 5-15/64″ (133mm) diameter centrifugal fan with multiple metallic vanes. Directs air fl ow from heating element at 90 cfm, mixes air to provide uniform temperature.
Heating Element: Coiled nickel-chrome heating element is protected by an automatic thermal-overload switch. Heating element, which is located on inlet side of fan, heats air without hot spots — inaccessible to vandals.
Electronic Control: Infrared sensor automatically turns dryer on when hands are held under air-outlet opening and across path of sensor. Remove hands from path of sensor and dryer stops. Electronic sensor has automatic shutoff approximately two minutes after dryer turns on if an inanimate object, such as tape or chewing gum, is placed across sensor lens. After inanimate object is removed, electronic sensor automatically resets itself and dryer operates normally.
Installation
Wall Preparation: Secure mounting base on wall using template provided. For masonry walls, provide four #10 expansion shields or anchors and secure with four #10 (M4.8) sheet-metal screws (not furnished). For plaster or dry wall construction, provide concealed backing to comply with local building codes, then secure unit with four #10 (M4.8) round-head sheet-metal screws or 3/16″ (5mm)
toggle bolts (not furnished). Provide electrical service from nearest distribution panel to dryer mounting base in compliance with local electrical codes.
Wiring Instructions: Connect ground wire to ground terminal marked , the black or hot wire to terminal marked L1, and neutral or white wire to terminal marked N. A DEDICATED LINE IS REQUIRED FOR EACH 115-VOLT INSTALLATION.
Notes: Electronic sensor in CompacDryer will pick up movement within 4″ (100mm) of air-outlet nozzle. Use caution when choosing location for CompacDryer in confi ned areas. Consider proximity to doorways and other traffic areas. Bobrick automatic hand dryers should be installed 15″ (380mm) above any projection or horizontal surface which may interfere with the operation of the automatic sensor