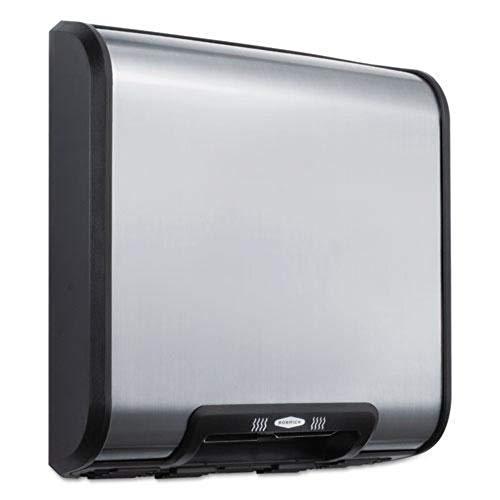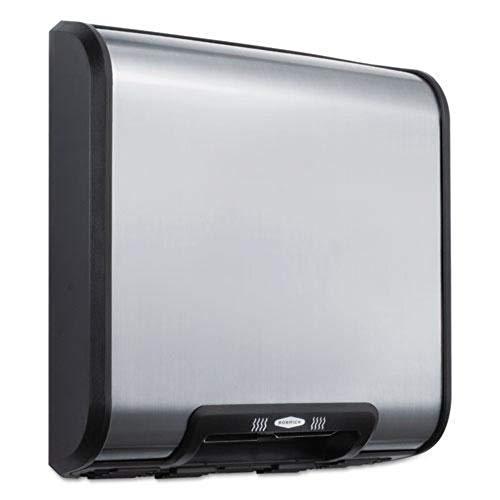 Bobrick (B-7128) | TrimDry™, Surface-Mounted Hand Dryer, 208-240AC, Stainless Steel
Buy now the B-7128 208-240V AC at the lowest price and fastest shipping.
Bobrick B-7128 208-240V AC
Durable, 22-gauge, type 304 satin-finish stainless steel cover with black plastic trim, automatic operation, dual air outlets.
Specifications
| | |
| --- | --- |
| Weight | 13.85 lbs |
| Dimensions | 12 × 12 × 4 in |
Specifications
Spec for Bobrick B-7128 208-240V AC
Color Finish: Stainless Steel

Voltage: 208-240V
Activation: Automatic

Mounting: Surface
Sound level: 71 dBA
Rated Power: 1.7 kW
Compliance: ADA, 3-15/16″ Depth
Cover: 22-gauge galvanized steel with exposed surface type-304 stainless steel with #4 satin-finish vertical grain (B-7128) or 22-gauge mild steel zinc plated with high-gloss white epoxy paint finish (B-7120) covers with UL 94-5VA black plastic trim and side panels. Cover equipped with uniquely designed dual air outlets. Air-inlet is equipped with vandal-resistant grille. Cover projects no more than 4″ (100mm) from wall and is secured to mounting base with two vandal-resistant, recessed hex screws.
Mounting Base: 20-gauge (1.5mm) plated steel with four 0.236" (6mm) diameter mounting holes.
Motor: Universal, 1/7 hp, 8000 rpm, on resilient mounting. Sealed ball bearing at drive-shaft end and self-lubricating sleeve bearing at nondrive end. Equipped with automatic thermal-overload switch.
Fans: Two balanced, double-inlet centrifugal fans are mounted on motor shaft; directs airflow over heating element at 71 cfm.
Heating Element: Two coiled nickel-chrome heating elements are mounted in mica frame and protected by automatic thermal-overload switches. Heating elements, heat air without hot spots — inaccessible to vandals.
Electronic Control: Infrared sensor automatically turns dryer on when hands are held under air-outlet opening and across path of sensor. Remove hands from path of sensor and dryer stops. Electronic sensor has automatic shutoff approximately 1-1/2 minutes after dryer turns on if an inanimate object is placed across air-outlet opening. After inanimate object is removed, electronic sensor automatically resets itself and dryer operates normally.
Installation
Wall preparation: Locate mounting base on wall using template provided. For brick, stone, and concrete walls drill four 0.315″ (8mm) holes to suit provided wall plugs 0.315″ (8mm) x 1-1/4″ (45mm) and screws # 10 (4.8mm) x 2″ (50mm) long. See template for wall plug and screw installation details. For plaster or dry wall construction, provide concealed backing to comply with local building codes and secure with four #10 (4.8) round-head sheet-metal screws or 3/16″ (5mm) toggle bolts
(not furnished). Provide electrical service from nearest distribution panel to dryer mounting base in conformance with local electrical codes.
Wiring Instructions: For 115-Volt Dryers — Connect ground wire to ground terminal marked , the black or hot wire to terminal marked L1, and neutral or white wire to terminal marked N. For 208–240-Volt Dryers — Connect ground wire to ground terminal marked and the 208-240-volt wires to terminal marked L1 and L2.
Notes: Electronic sensor in Automatic dryers will pick up movement within 6″ (150mm) of the air-outlet opening. Use caution when choosing location for Automatic dryers in confined areas. Consider proximity to doorways and other traffic areas.