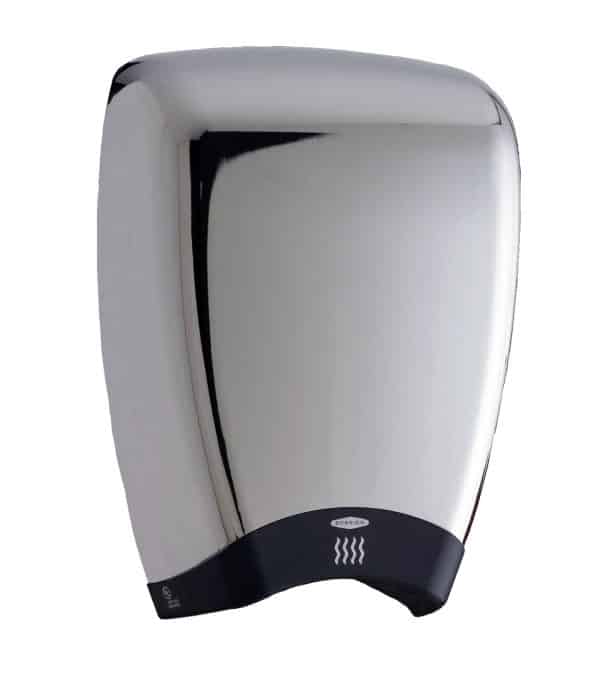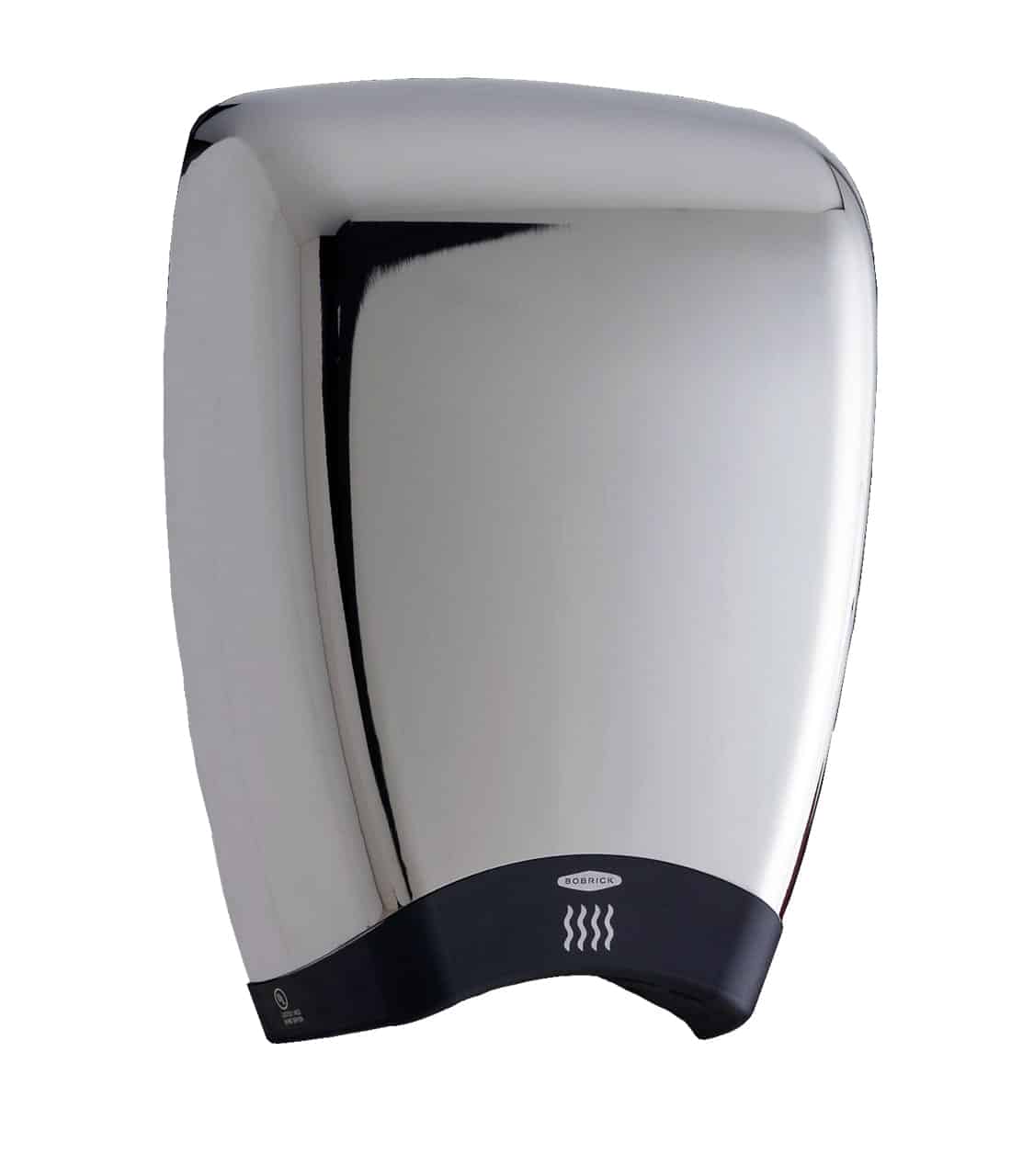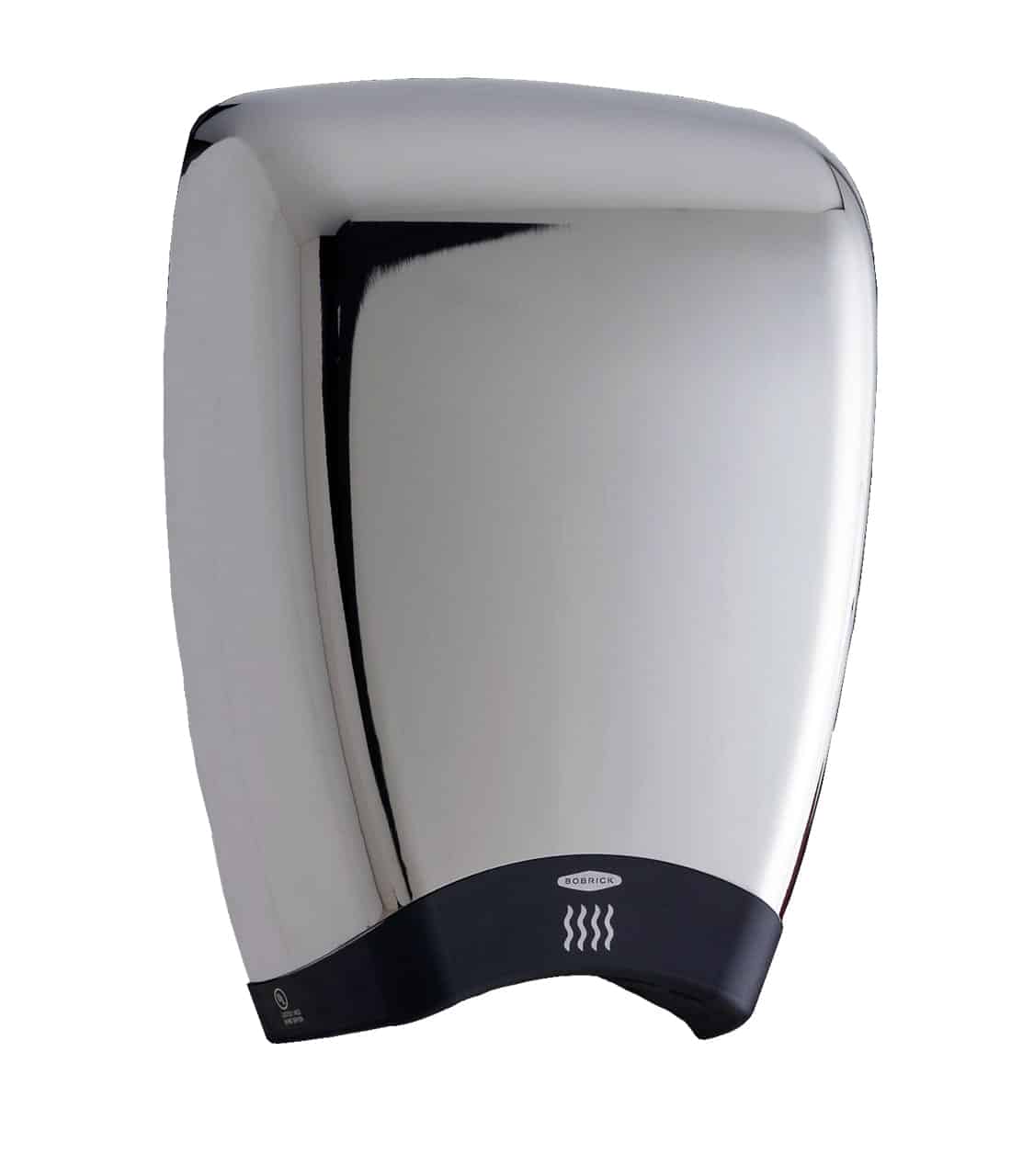 Bobrick (B-7188) | QuietDry™, Surface-Mounted Hand Dryer, 115V, Chrome
Purchase the Bobrick B-7188 115v with the lowest price and fastest shipping.

Bobrick B-7188 115v
One-piece, aluminum die-casting with chrome finish. Uniquely designed to have a sound pressure level of 70dB(A) measured at 39″ (1 meter) from source and a power rating of 1.0kW.
Specifications
Specs for Bobrick B-7188 115v
Color Finish: Chrome
Voltage: 115V AC, 8.5 Amp, 50/60 Hz, 1000 Watts, Single Phase, cULus Listed.

Activation: Automatic 
Mounting: Surface 
Sound level: 70 dBA
Rated Power: 1.0 kW
Compliance: ADA, 3-15/16″ Depth
Cover: Aluminum die-casting with high-gloss epoxy finish electrostatically applied. White (B-7180) and Chrome (B-7188). Cover projects no more than 4″ (100mm) from wall and is secured to mounting base with two vandal-resistant, recessed hexscrews.
Air-Inlet Grill: One-piece vandal resistant UL 94-5V black plastic.
Mounting Base: Equipped with four 0.236″ (6mm) diameter mounting holes and one 7/8″ (22mm) diameter holes suitable for between-wall wiring.
Motor/Fan: Thermally protected, Universal, 1/7 hp, 8000 rpm motor, on resilient mounting. Shielded ball bearings at both ends. Double-inlet forward curved impeller, providing air volume of 120 m³/hr (71cfm); air velocity of 35m/s (7000 lfm).
Heating Element: Coiled Nichrome heating element mounted on a mica frame, protected by integral automatic thermal overload device. To heat air without hot spots and remain inaccessible to vandals.
Electronic Control: Infrared sensor automatically turns dryer on when hands are held under air-outlet opening and across path of sensor. Remove hands from path of sensor and dryer stops. Electronic sensor has automatic shutoff approximately 1-1/2 minutes after dryer turns on if an inanimate object is placed across air-outlet opening. After inanimate object is removed, electronic sensor automatically resets itself and dryer operates normally.
Installation
Wall preparation: Hold the Installation Template against the wall in the desired location of the installed dryer. See recommended mounting heights above. Make sure line on template representing bottom of dryer mounting base is horizontal and located at the desired height above floor. NOTE: Surface-mounted electrical supply entry is located in the lower right corner of the mounting base. Surface-mounted supply cable should be fitted in a conduit. Drill four holes for 1/4″ (6.4mm) diameter mounting bolts or screws (not furnished by Bobrick). Fasten mounting base securely to wall
Wiring Instructions: For 115 Volt Dryers: Connect ground/earth supply the terminal marked , the Live supply to terminal marked L and neutral supply to terminal marked N. A DEDICATED LINE IS REQUIRED FOR EACH 115 VOLT DRYER. For 208–240 Volt Dryers: Connect ground/earth supply the terminal marked and the 208-240 Volt wires to terminals marked L (L1) and N (L2).
Notes: Electronic sensor in Automatic dryers will pick up movement within 6″ (150mm) of the air-outlet opening. Use caution when choosing location for Automatic dryers in confined areas. Consider proximity to doorways and other traffic areas. Bobrick automatic hand dryers should be installed at least 15″ (380mm) above any projection or horizontal surface which may interfere with the operation of the automatic sensor. For installation instructions that include step-by-step installation procedures and details of electrical service connections, see Form No. 712-69, which is packed with each shipment. This form is also available in advance upon request.