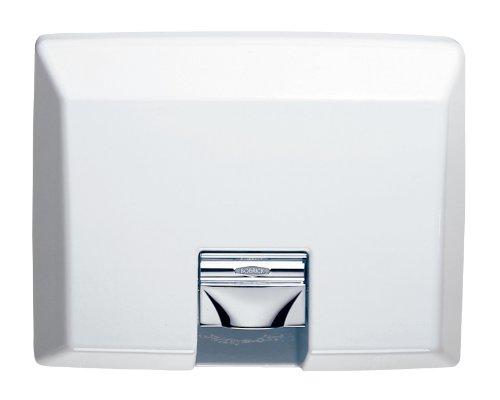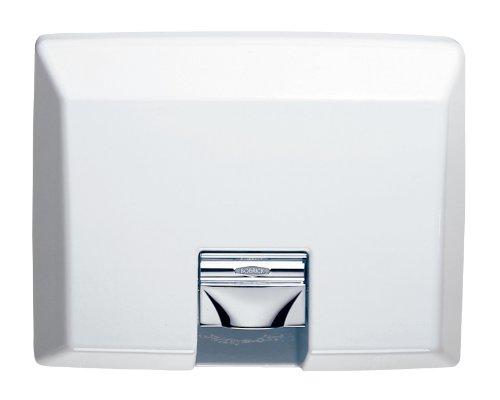 Bobrick (B-750) | AirCraft®, Semi-Recessed Hand Dryer, White Cast Iron
Purchase the Bobrick B-750 with the lowest price and fastest shipping.
Bobrick B-750
Durable, cast-iron with white vitreous enamel finish, automatic sensor.
Specifications
Specs for Bobrick B-750

Dry Time: 25 to 28 Seconds
Mount: Semi-recessed Mount
Cover: One-piece, minimum 1/8″ thick, white cast iron finished in high-gloss, acid-resistant, multicoat vitreous enamel.
Nozzle: Two position, self-returning chrome-plated air-outlet nozzle.
Activation: Automatic (infra-red), 90 second safety shut-off.
Power: 115V, 50/60Hz, 20A, 2300W
208-240V, 50/60Hz, 9-10A, 1900-2400W
Motor: Universal, 1/10 hp, 6200 rpm, on resilient mounting. Sealed ball bearing at drive-shaft end and self lubricating sleeve bearing at non-drive end. Automatic thermal-overload switch.
Fan: Dynamically balanced, single-inlet centrifugal fan.
Airspeed: 150 CFM (cubic feet per minute)
Heating Element: Coiled nickel-chrome, thermal shut-off switch. Protected from outside contact.
Dimensions: 15-3/4″ Width x 10-3/8″ Height x 7-1/4″ Depth.
Installation
Wall Preparation: Provide framed rough wall opening 13-3/4" wide x 9-1/2" high (350 x 240mm). Minimum recessed depth required to finish face of wall is 3-3/4" (95mm). Allow clearance for construction features that may protrude into rough wall opening from opposite wall. Coordinate with mechanical engineer to avoid pipes, vents, and conduits. If installed in plaster wall, it is recommended that opening be grounded on all four sides with metal plaster trim. If unit projects above top of wainscot, provide aluminum channel or other filler to eliminate gap between flange of mounting box and finish face of wall. If two units are installed back-to-back, a sound-barrier is recommended between units. Provide shims between framing and mounting box at all points indicated by an S, then secure with four #10 (M4.8) screws (not furnished). Provide electrical service from nearest distribution panel to recessed mounting box in conformance with local electrical codes.
Wiring Instructions: For 115-Volt Dryers — Connect ground wire to ground terminal marked , the black or hot wire to terminal marked L1, and neutral or white wire to terminal marked N. A DEDICATED LINE IS REQUIRED FOR EACH 115-VOLT INSTALLATION. For 208–240-Volt Dryers — Connect ground wire to ground terminal marked and the 208- or 240-volt wires to terminals
marked L1 and L2.
Notes: Electronic sensor in AutoPilot dryers will pick up movement within 7-1/2" (190mm) of air-outlet nozzle. Use caution when choosing location for AutoPilot dryers in confined areas. Consider proximity to doorways and other traffic areas. Bobrick automatic hand dryers should be installed 15″ (380mm) above any projection or horizontal surface which may interfere with the operation of the automatic sensor