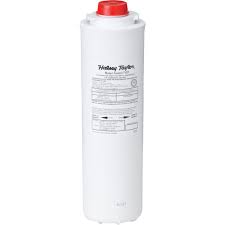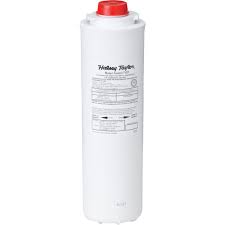 $57.46 — or subscribe and save 5%
Halsey Taylor (55897C) | WaterSentry VII Replacement Filter for Water Coolers & Fountains
Purchase the Halsey Taylor 55897C at the lowest price and fastest shipping.
Halsey Taylor 55897C
This Halsey Taylor WaterSentry V11 filter replacement is compatible with Water Coolers and Fountains.
This filter uses a high quality activated carbon technology and is certified to reduce lead, cyst, particles, chlorine, odors, helping to provide clean and great tasting water.
Halsey Taylor filters include self-contained replacement cartridges, limiting exposure to contaminated media.
Standard Features
1,500 Gallon Capacity filter ideal for lower trafficked spaces.
Includes Quick-disconnect, 1/4 turn turn installation, and automatic inlet shut-off valve, that closes when filter is removed.
Spun polypropylene pre-filter mesh prevents large, coarse, sediment particles, from entering and clogging filter media.
Certified to NSF 42 and 53 for reduction of lead, cyst, particulate class 1, chlorine, taste, and odor.
SELLER NOTE: Elkay & Halsey Taylor are the same company, with basically the same specs, just a different brand.
Specifications
| | |
| --- | --- |
| Weight | 2.00 lbs |
| Dimensions | 13 × 4 × 4 in |
Specifications
Key Specs
Filtered Contaminants: lead, cyst, particles, chlorine, and reduction for odors.
Dimensions: 3-1/2″ x 3-1/2″ x 12″
Shipping Weight: 2 lbs.
Flow Rate: 1.5 GPM (5.6 L/m)
Capacity: 1500 gal. (5678L)
Temperature: 40-100°F (4-38°C)
Initial Pressure Drop: 2-5 PSI (14-34 kPa)
Maximum Pressure: 105 PSI (724 kPa)
Minimum Pressure: 20 PSI (138 kPa)
Water Inlet: 3/8" (9.5mm) O.D. tube
Water Outlet: 1/4" (6.4mm) O.D. tube
Compliance: NSF 42, NSF 53, NSF 372 (lead free)
Special Note: Replacement filter for HWF172 WaterSentry® VII systems in water coolers + fountains
Owner's Guide
INSTALLATION
Install filter kits in compliance with your state and local regulations.
Maximum inlet water temperature 100° F (38°C).
Do not use this filter with water that is microbiologically unsafe or of unknown quality without adequate disinfection before or after the system.
MAINTENANCE
Replace filter every 1,500 gallons or 1 year after installation.