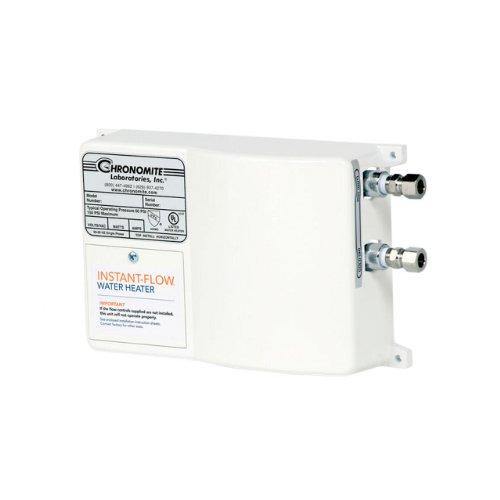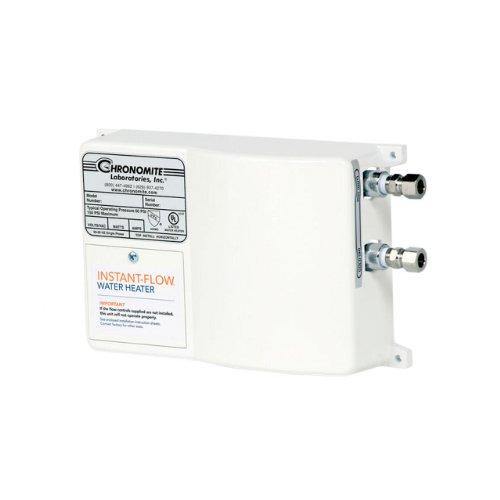 Chronomite (SR-20L/120) | InstantFlow SR, Low Flow Tankless Water Heater, 0.35 GPM, 20A/120W
Purchase the Chronomite SR-20L/120 with the lowest price and fastest shipping.
Chronomite SR-20L/120
Looking for a simple and affordable way to provide hot water at the point of use? The Chronomite Instant-Flow® SR Electric Tankless Water Heater is a reliable option for providing instant hot water.
This instant water heater is ideal for sinks and restrooms. It is designed for single-handle and two-handle faucets and fits easily as an under-the-sink water heater.
For optimal performance, install within 18 inches of the point-of-use.
Applications
Kitchen sinks
Hand hold showers
Utility sinks
Manual hand washing faucets
Bar sinks
Standard Features
Unlimited hot water
0.35 gallon (1.3 liter) per minute low activation
Easy installation
Size: 6-1/4 height  x 9-5/8 x 2-3/4" (159 x 244 x 70 mm)
Meets ADA requirements when installed properly
Made in the USA
Specifications
Key Specs
Wattage: 2400
Voltage: 110/120
Breaker Size: 20A
Dimensions: 6¼" x 9 5/8" x 2 ¾"
Weight: 5 lbs.
Materials: Rugged cast aluminum alloy casing, Celcon waterways, nichrome parts
Color: White (unless stainless steel housing)
Pipe Fittings: Female ¼" NPT standard pipe thread
Pressure Requirements: 25 PSI Minimum, 150 PSI Maximum (300 PSI tested) No pressure relief valve needed unless required by local codes.
Maximum Operating Temp: 140°F
Flow Switch Activation: .4 GPM
Flow Switch De-Activation: 0.35 GPM
Listings: UL, HUD, IAPMO
Owner's Guide
INSTALLATION
A licensed plumber is required for installation per your local regulatory requirements. 
Before beginning, turn off the breaker and disconnect the electrical supply to the area. Shut off water supply to the fixture. Double check that everything has been turned off prior to proceeding.
FOR OPTIMAL PERFORMANCE, CHRONOMITE ELECTRIC TANKLESS WATER HEATERS SHOULD ALWAYS BE INSTALLED WITHIN 18 INCHES OF THE POINT OF USE.
MAINTENANCE
Periodically inspect the supply lines, connections and heater for any moisture, corrosion or other potential preventable problems.