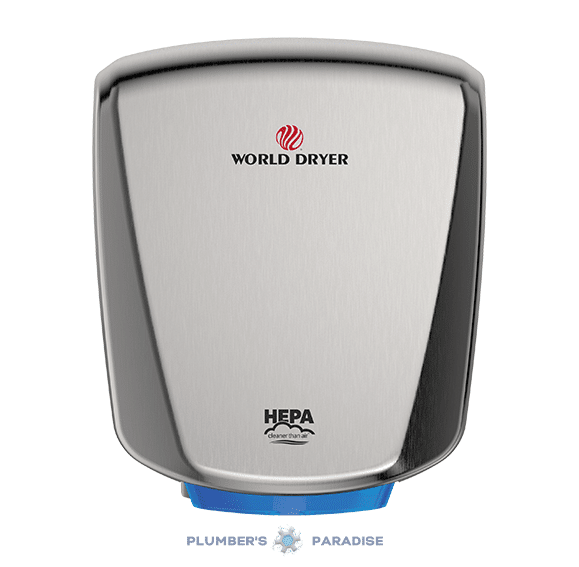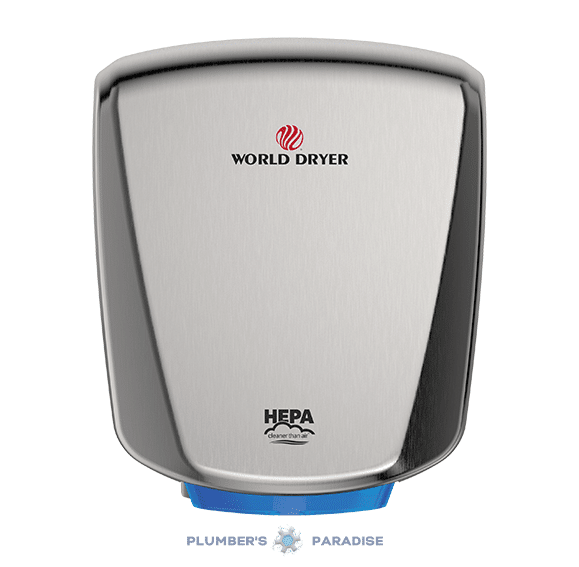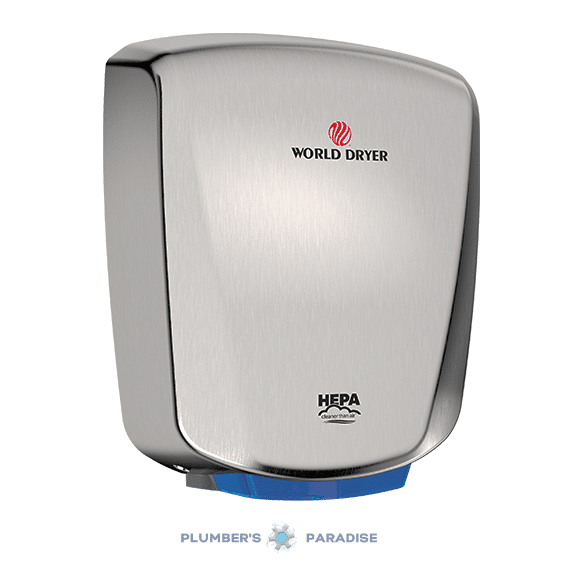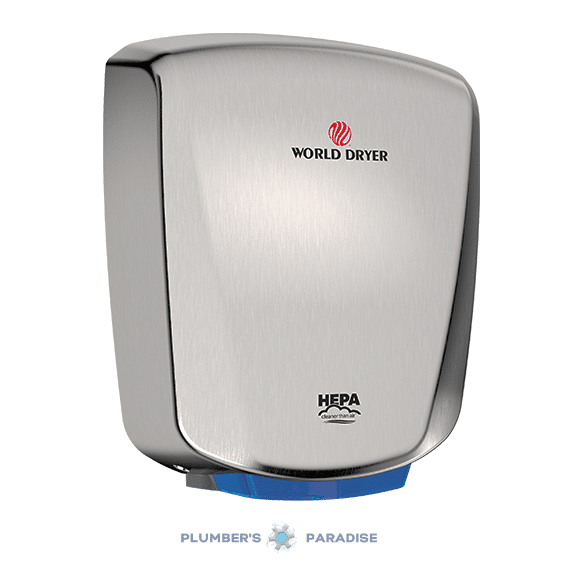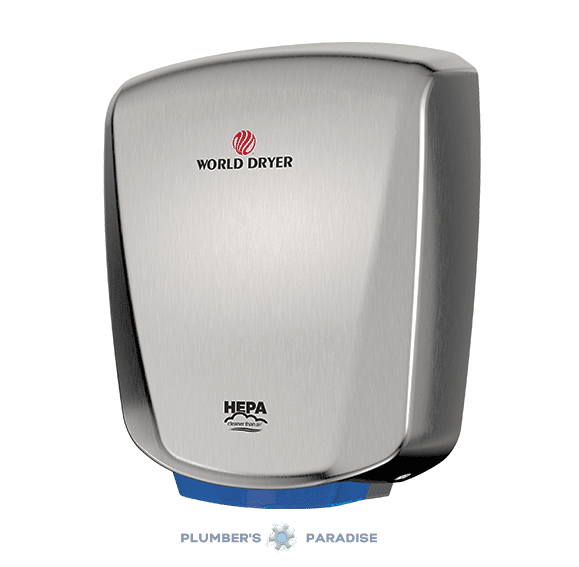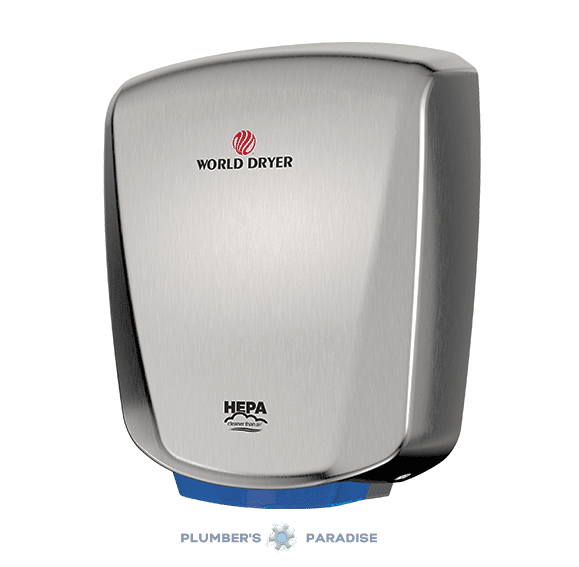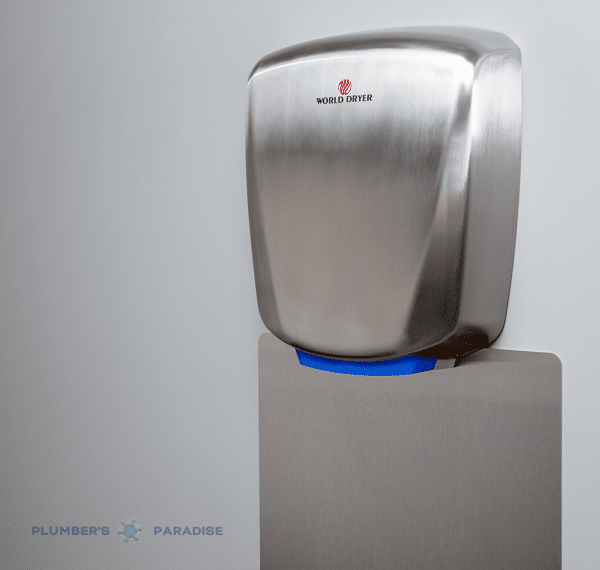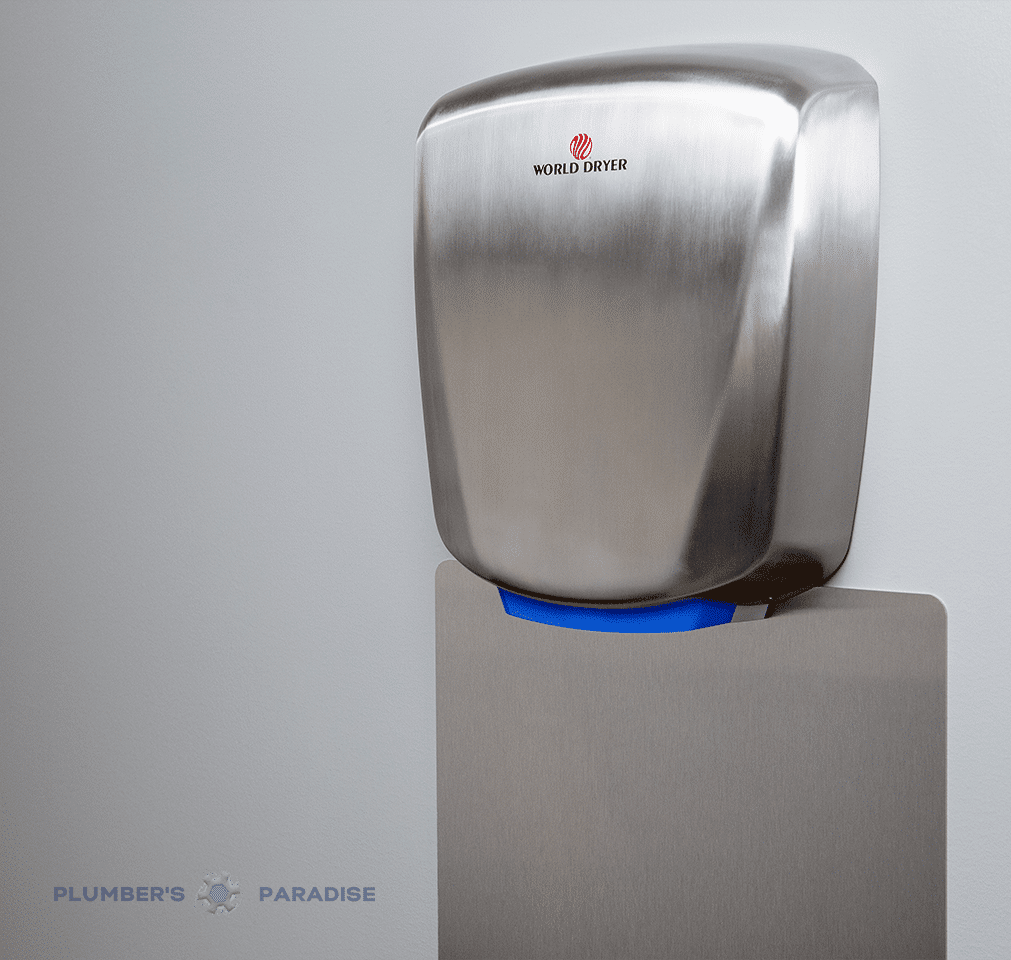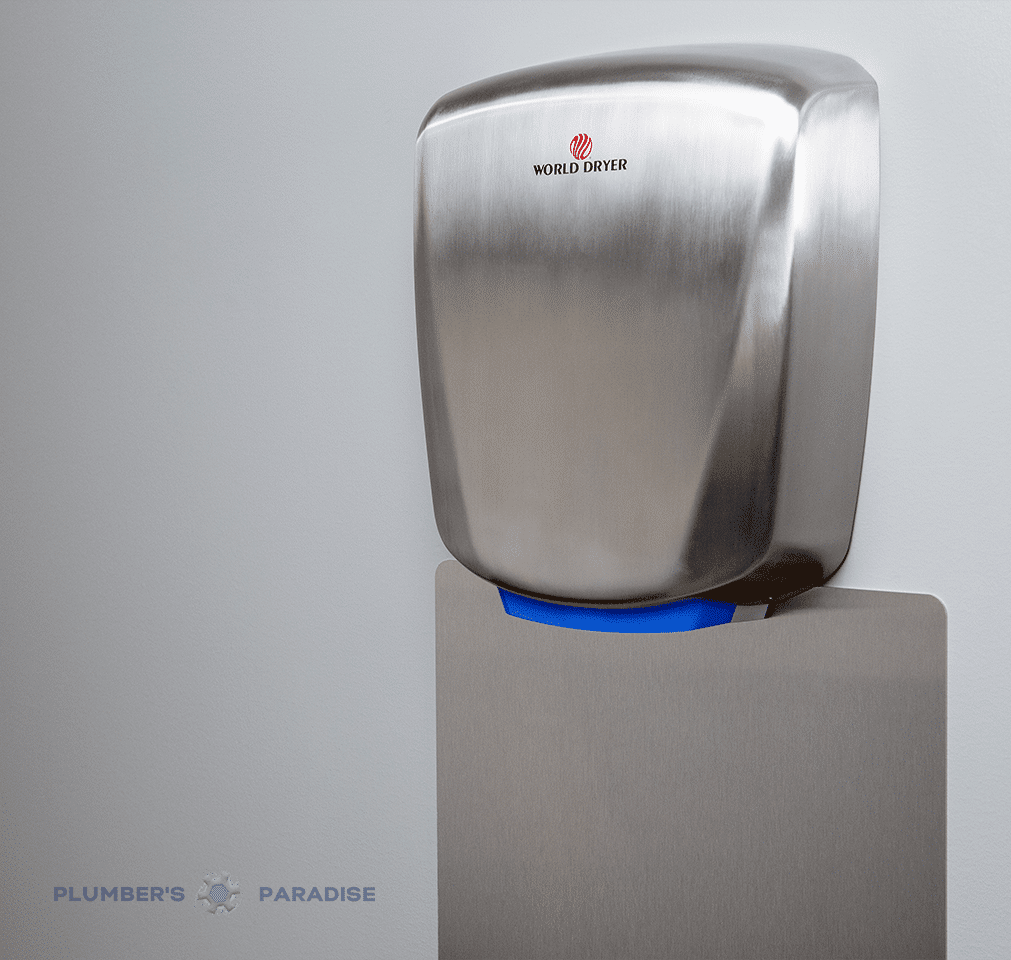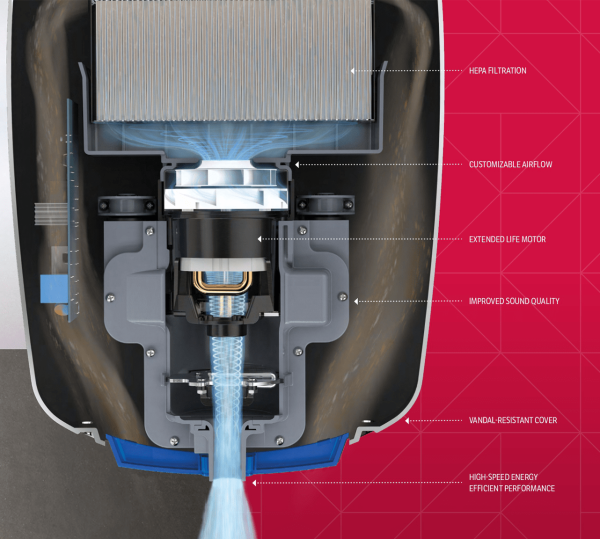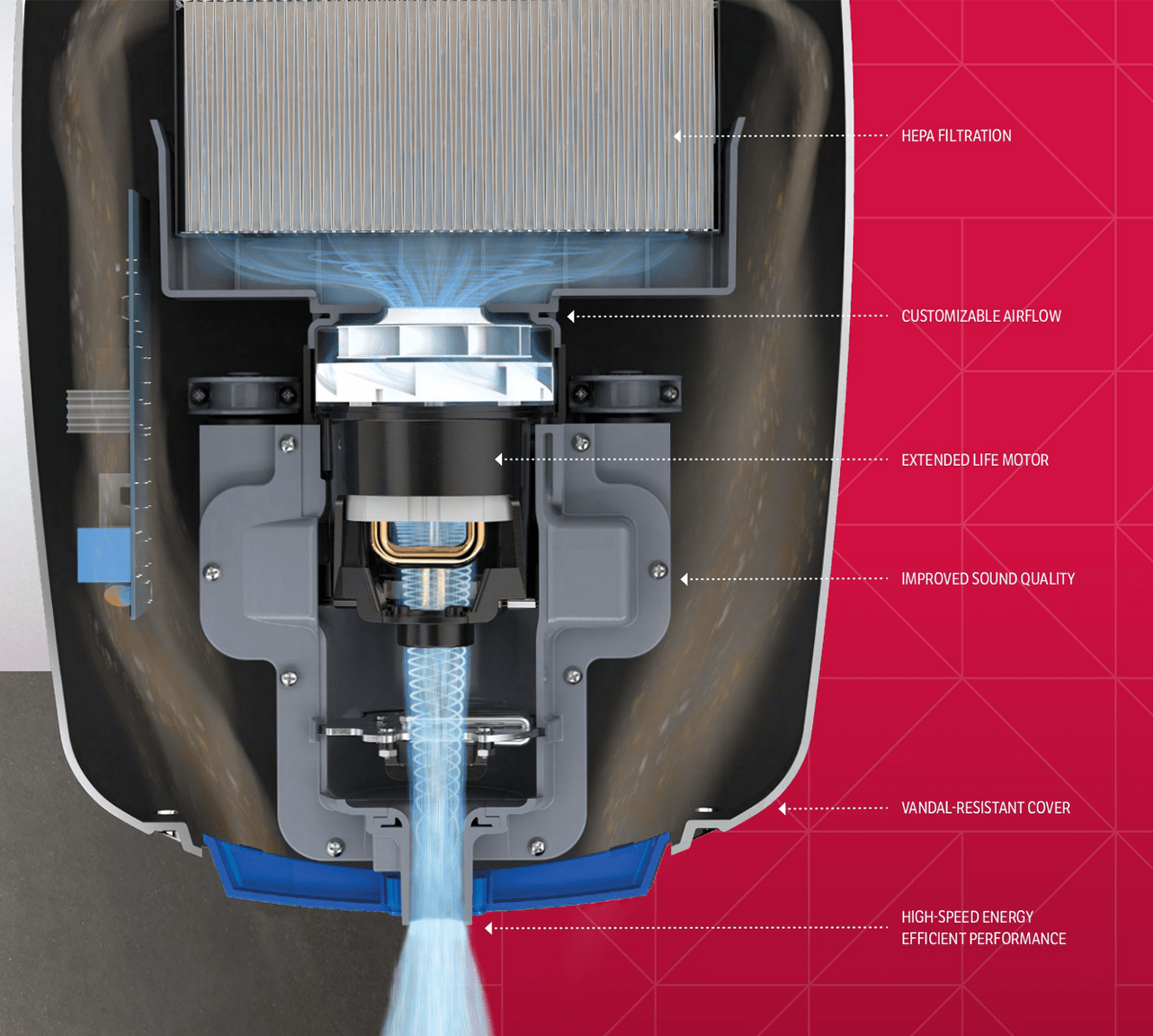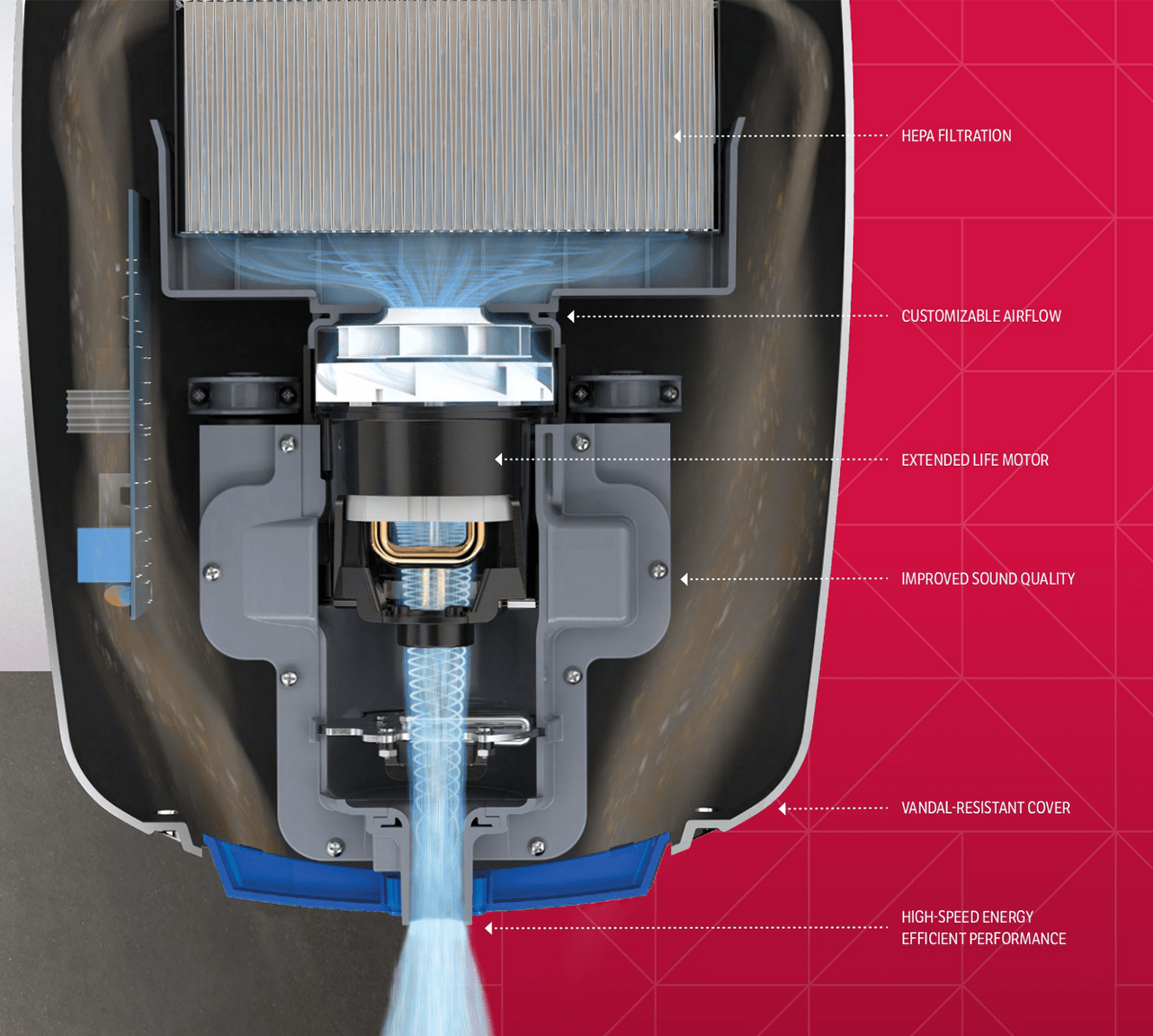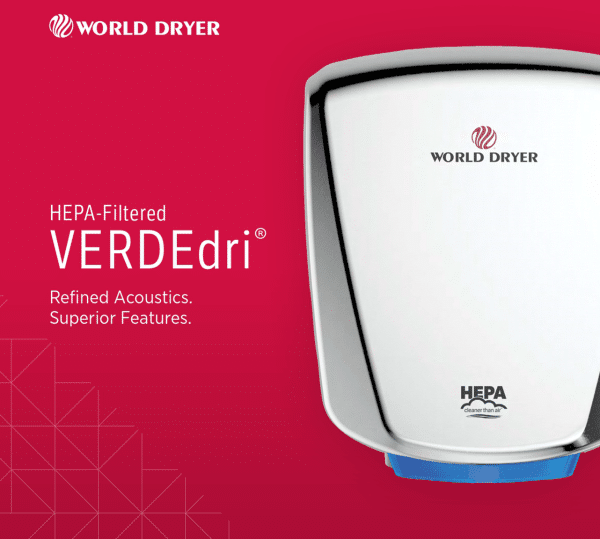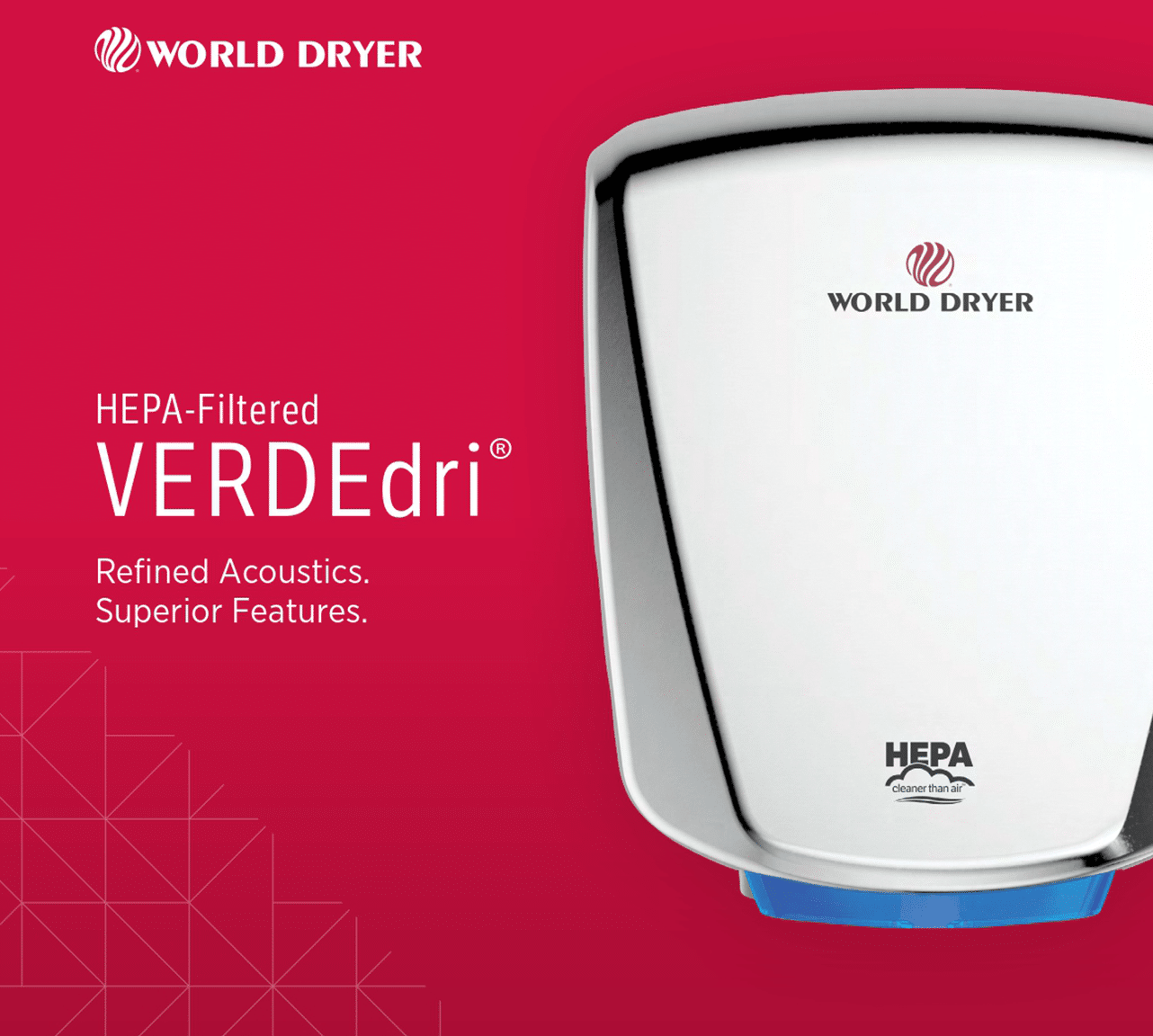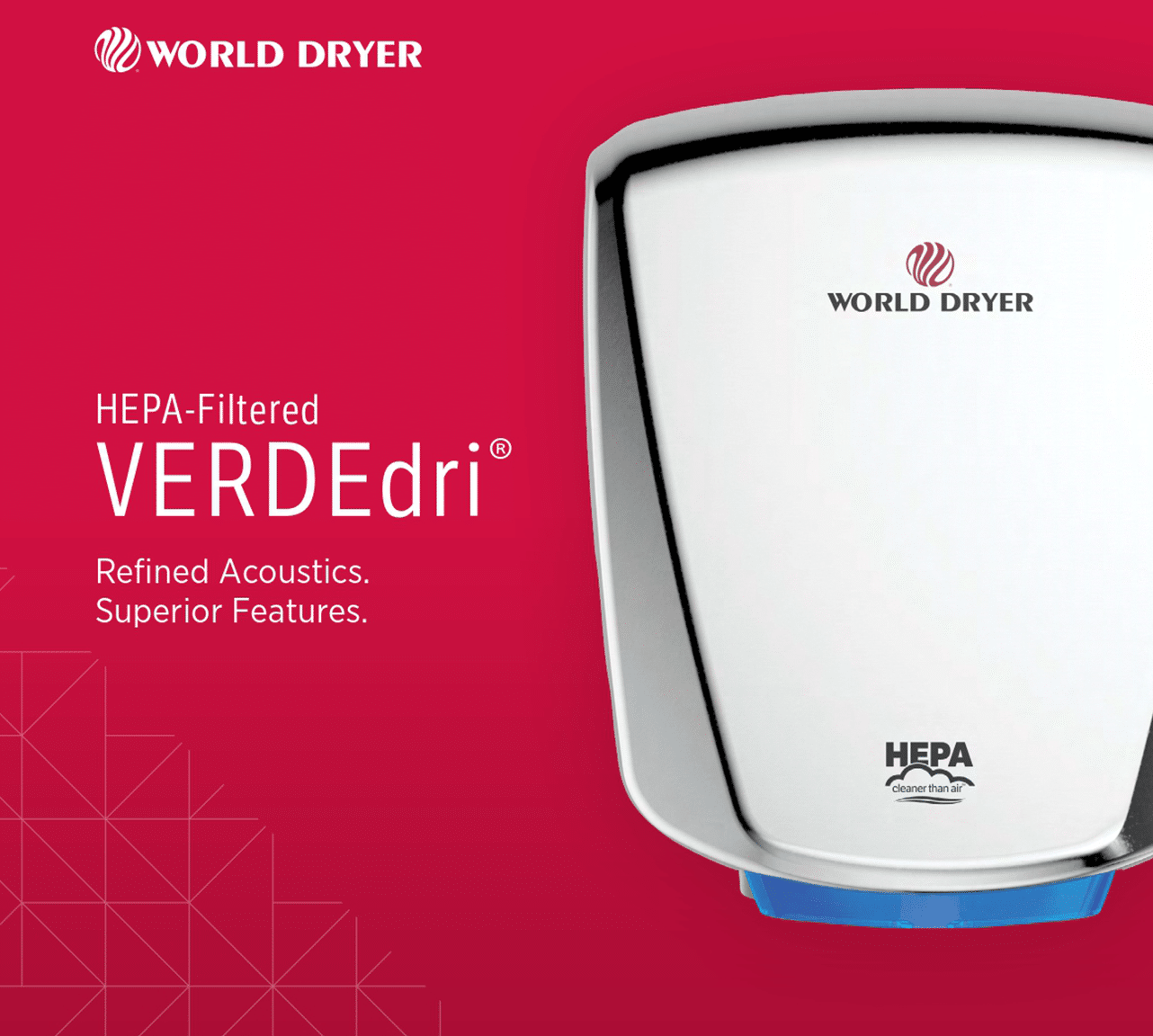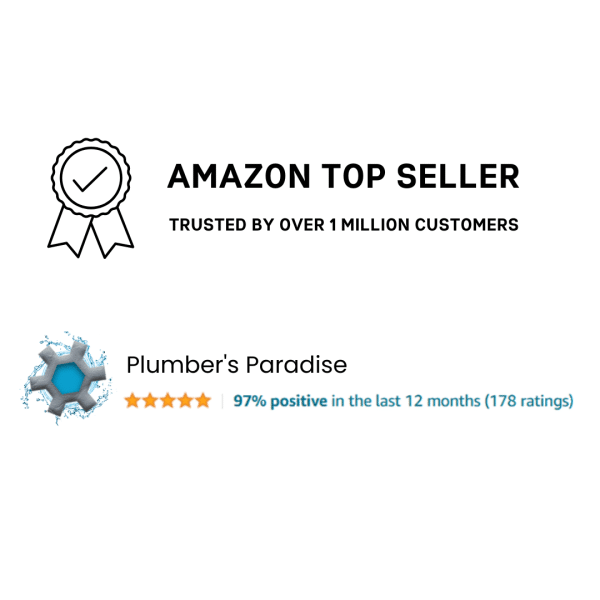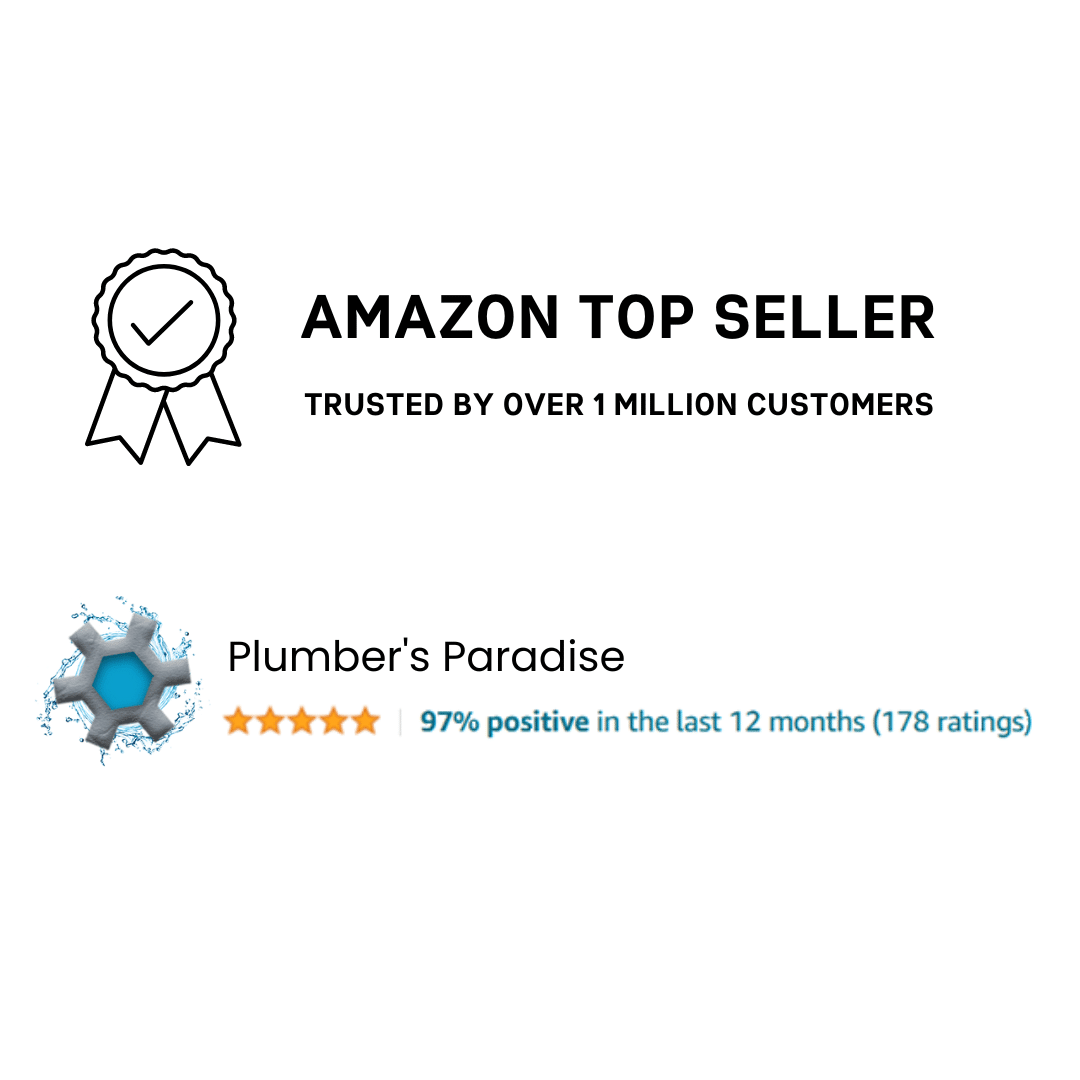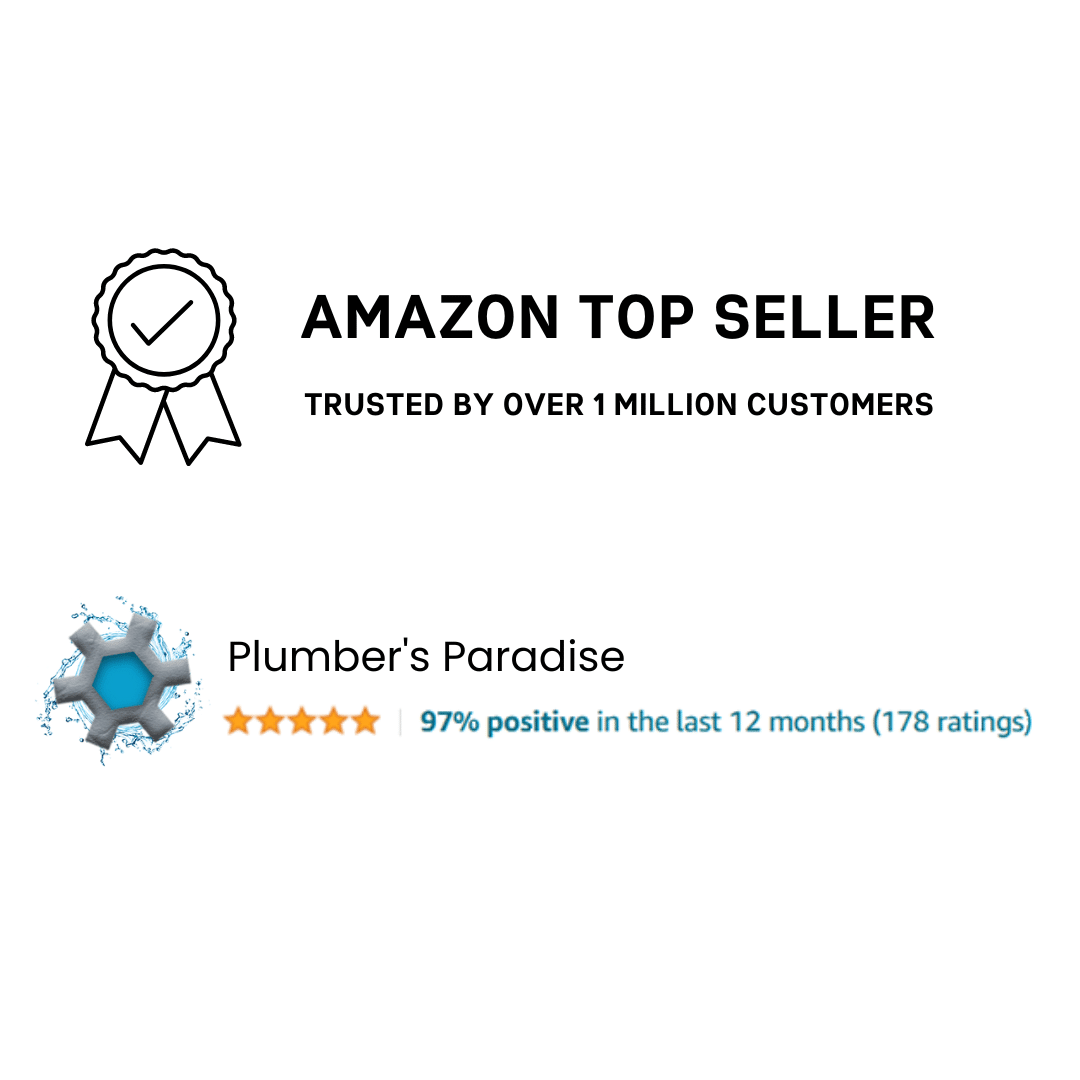 World Dryer (Q-973A2) | HEPA-Filtered VERDEdri Hand Dryer, Automatic, Brushed Stainless Steel
Replace your old hand dryer and elevate your restroom with the World Dryer Q-973A2.
World Dryer Q-973A2
The VERDEdri line offers the perfect balance of energy efficiency, high speed performance, quiet operation, hygiene, and an attractive return on investment.
Save User Time & Limit Crowds
Save on Energy Bill
Improved design uses only 3.16 watt-hrs.
0.32 cent cost per 1,000 cycles
Shhhh!! Quieter Operation
Improved sound quality and 30% Quieter than prior models (69 dBA)
3 different sound settings gives you flexibility to adjust per space
Clean & Sanitary
Captures 99.97% of particles 0.3

μ

m or larger with HEPA Filtration, means clean air before it reaches your hands.
Touchless, hands-free activation limits bacteria spreading
IP24 Rating for protection against harmful water ingress.
Antimicrobial tech prevents bacteria, mold, and fungus growth on dryer surface for extra layer of protection.
Other Features & Benefits
ADA compliant, surface mounted, compact design, to align with building code and unobtrusive flow.
Universal voltage works for any space (120 - 277V)
Vandal resistant cover for increased durability
Modern, slick design compliments professional spaces, and enhances others
Extended motor life for increased lifespan.
10 Year Warranty ensuring success for the long run.
The Top Benefits of Owning a World Dryer Verdedri
"How Many Units Do I Need?"
Average Traffic: 1 dryer per 2 wash basins
Heavy Traffic: 1 dryer per wash basin
Industrial 54" circular wash fountains: 4 dryers per sink
"Can the noise settings be turned down?"
Yes, there are 3 different settings to choose from depending on your space.
"What Colors / Finishes Are Available?"
| | |
| --- | --- |
|  Q-973A2 |  Brushed Stainless Steel (current view) |
|  Q-972A2 | |
|  Q-162A2 |  Aluminum Black |
|  Q-974A2 | |
** For Bulk Order Quotes, Shipping ETA, or other questions, contact us at (929) 777-8205 | info@plumbersparadise.net 
Specifications
Key Specs
Dry Time: 12 seconds
Air Velocity: 42 – 64 CFM
Air Temperature: 130°F
Sound at 79 in (2m): 69 dBA
Shipping Weight: 13.4 lbs / 6.1 kg
Unit Size: 13.3" x 11.6" x 3.9" [339 x 295 x 100]
Heated? Yes
Activation? Automatic
ELECTRICAL
Voltage: 120-277 VAC (universal)
Frequency: 5-60 Hz
Recommended Circuit: Dedicated 15 Amp
CONSTRUCTION
Finish: Brushed Stainless Steel
Motor: Thermally-protected universal type, through-flow discharge vacuum type, 5/8 HP, 31,000 RPM
Heating Element: Nichrome wire construction, 475 watts, with auto-reset thermal-protector so power is disconnected if air is not flowing
Electronic Controls: Universal voltage (120 – 277 V)
Filtration: HEPA Filter (standard – eliminates 99.97% particles 0.3 microns or larger (Accessory standard particulate filter available)
Speed Control: 3 Speed Selector Switch
Activation: Automatic touch-free infrared activation with 45 second vandal-resistant lock out feature
Enclosure Security: Cover attached with tamper-resistant screws; security wrench included.
Electrical Connection Access: Access for wall mounted junction box and for bottom-entry surface mounted conduit (Accessory adapter 1 available for top-entry surface mounted conduit)
Warranty: 10 Year Limited Warranty
Owner's Guide
INSTALLATION
A Licensed Contractor is required for installation per your local regulatory requirements.
Always disconnect the power source before servicing or installing the dryer.
VERDEdri hand dryers require a dedicated circuit and must be properly grounded
Hand dryers should be placed at least 2 feet apart, near but not over the wash basin.
Mount VERDEdri at least 18 inches above or away from reflective surfaces, which risk interference of automatic sensor.
MAINTENANCE
Clean unit surfaces with mild soap solution. Avoid using abrasives.
Cleaning once every 6-12 months is recommended.
How to troubleshoot a World Dryer VERDEdri hand dryer?