Installing a Bobrick hand dryer in your space can have numerous benefits. Not only does it provide a more hygienic and efficient way to dry hands, but it also offers cost savings and helps reduce environmental impact. Its advanced technology and innovative features make it a preferred option in various settings, including public restrooms, schools, offices, healthcare facilities, and more.
In this article, we will explore the various benefits of choosing a Bobrick hand dryer for your facility.
Company Background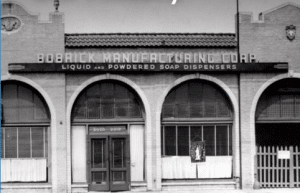 Bobrick's brand name originates from its Founder – Gabriel Alexander Bobrick who started the business in 1906 as the Bobrick Chemical Company. Since then, Bobrick has become an industry leader in Commercial and Institution buildings.
Now, Bobrick is Headquartered in North Hollywood, California where they work from a LEED® Gold-certified building. Their 100,000 square ft. premise includes photometric sensors, rooftop solar panels, and charging stations for electric vehicles.
Their reach includes 7 manufacturing divisions across USA, Canada, and U.K. While they do business in 100 different countries, they pride themselves in their roots as a family business.
Company core values:
"Do the right thing."
"Offer the best value."
"Treat each employee with dignify and respect while embracing all backgrounds and experiences, promoting equity, and being inclusive."
"Foster a fearless and trusting culture."
"Continuously improve everything we do."
How Does the Bobrick Hand Dryer Work?
The operation of a Bobrick hand dryer is straightforward. When a user places their hands beneath the dryer, a sensor detects their presence and activates the motor. The high-speed airflow produced by the motor then blows away the water droplets on the hands, leaving them dry within seconds.
Bobrick offers many different model types, each with its own speciality; however, as on overall brand, there are several attributes that we believe make the this company and product line most unique.
What Makes the Bobrick Dryer Most Unique?
Great understanding of the end customer with long history of family business serving the commercial buildings market.
Combining Germicidal UV, Hydroxyl radicals & Superoxide ions sanitization technology, rather than HEPA
Wide range of designs and model types per customer needs and space setups
Stylish, modern design provides an interior design upgrade, rather than something to hide
Affordable prices compared to its competitors
Top Features & Benefits
Bobrick hand dryers are equipped with advanced technology and innovative features that enhance their performance and user experience. Let's take a closer look:
Health & Hygiene
One of the key features of Bobrick hand dryers is their touchless operation. This significantly reduces the risk of cross-contamination and the spread of germs. By simply placing their hands under the dryer, users can enjoy a hygienic drying experience without the need to touch potentially contaminated surfaces. The touchless design not only promotes better hand hygiene but also provides peace of mind for both facility managers and users.
To take it a step further, Bobrick's new PureDri product deploys the combination of Germicidal UV, Hydroxyl radicals, and Superoxide ions to sanitize both surface and air for a pure, clean environment. This technology emits a highly efficacious sanitizing plasma that is formed of hydroxyl radicals, and super-oxide ions and is proven to eliminate 99.8% of airborne and surface micro-organisms and substantially reduce unpleasant odors.
High Performance
Bobrick boasts High-speed drying capabilities: The Bobrick hand dryer is designed to provide quick and efficient hand drying. With its high-speed airflow, it can dry hands in a matter of seconds, ensuring that users can move on with their day without any delay.
Infrared sensor automatically turns dryer on when hands are held under air-outlet opening and across path of sensor with dry time range 10-12 seconds.
Efficiency & Eco-friendliness
Bobrick hand dryers are equipped with energy-efficient motors that reduce power consumption, making them an eco-friendly choice. Surface-mounted high-speed hand dryer shall have an energy consumption of only 200 watts. GreenSpec certified and ADA compliant with less than 4" protrusion from the wall. CULus-listed and CE-marked.
Durability
The Bobrick hand dryer is built to last. Its durable construction ensures long-term reliability, making it a cost-effective choice for businesses and organizations. Unit shall have 18-gauge (1.2mm) thick Type-304 stainless steel cover with #4 satin finish vertical grain. The slim profile cover shall project
no more than 3 7/8″ (98mm) from the finished face of wall to comply with accessible design guidelines (including ADAAG in the U.S.A.)
Aesthetics
One of its standout benefits from the rest of the market, Bobrick's hand dryers are designed to with aesthetics in mind.
Their sleek and modern designs will enhance the overall look of your facility. They blend seamlessly into various restroom styles and help create a more cohesive and visually appealing environment. Additionally, the compact size of Bobrick hand dryers maximizes space efficiency, allowing for better utilization of restroom areas.
For the first time, the hand dryer can be added to enhance the class and appeal of your space.
Range of Model Types & Designs
Top Sellers
Quiet Dry: TrimDry B-7120 is currently listed for sale on PlumbersParadise site for $506.81
Quiet Dry: TrimDry B-7128 is currently listed for sale on PlumbersParadise site for $616.17
Newest Releases
PureDri – B-9100 is currently listed for sale on PlumbersParadise site for $688.00
Fino Collection – B-7179 is currently listed for sale on PlumbersParadise site for $1,316.63
InstaDry – B-7125 is currently listed for sale on PlumbersParadise site for $740.00
Installation & Maintenance
Installation
Wall Preparation: Secure mounting base on wall using template provided. For masonry walls, provide four #10 expansion shields or anchors and secure with four #10 (M4.8) sheet-metal screws (not furnished). For plaster or dry wall construction, provide concealed backing to comply with local building codes, then secure unit with four #10 (M4.8) round-head sheet-metal screws or 3/16″ (5mm)
toggle bolts (not furnished). Provide electrical service from nearest distribution panel to dryer mounting base in compliance with local electrical codes.
Wiring Instructions: Connect ground wire to ground terminal marked , the black or hot wire to terminal marked L1, and neutral or white wire to terminal marked N. A Dedicated line is required for each 115‑volt installation.
Notes: Electronic sensor in Automatic dryers will pick up movement within 6″ (150mm) of the air-outlet opening. Use caution when choosing location for Automatic dryers in confined areas. Consider proximity to doorways and other traffic areas. Bobrick automatic hand dryers should be installed at least 19-3/4″ (500mm) above any projection or horizontal surface which may interfere with the operation of the automatic sensor.
Maintenance
All Bobrick Dryers require cleaning every 6 months to ensure that they function effectively. Please note that failing to clean the dryer may result in malfunction and can void the warranty.
If the dryer is installed in an area prone to dust and dirt this cleaning procedure should be carried out more frequently.
Check the length of motor brushes, where applicable, when performing the cleaning procedure.
Environmental Impact & Sustainability Reporting
Bobrick looks at sustainability through an "authentic" approach. By this, they emphasize strategies beyond the status quo green measures often seen in green building. Rather, they believe a sustainable operation is closely associated with an economical operation, and are sure those two are aligned to long term business goals.
Bobrick's materials and products are all thoughtfully selected with sustainability in mind and are also aligned to keeping the architect's aesthetic vision.
More specifically with their hand dryer, their impact for your organization is removing the need for towel trash removal and inventory management, 95% cost savings compared to paper towels, and TrimLine Series accessories are made using 50-70% recycled stainless steel material.
Bobrick hand dryers help contribute to your LEED certification program while also supporting the reduction of longterm costs.
In conclusion, Bobrick hand dryers are a market leader for good reason. While some of their models may be priced slightly higher than others, the longevity and added features translate to a high ROI.